Released our latest game today, Cubeology.
Unity web player version available here
Cubeology is a 3D picture cube matching game in which you select pairs of cubes with matching designs to remove them, until there are no cubes left.
It has 5 different game types, which can be played in either a cube layout or a sphere layout, with either free or fixed rotation, making for 18 game variations in total.
It has separate Google Play leaderboards for each of the 5 different game types.
Colourful graphics, catchy soundtrack and addictive gameplay make this a fun game that you keep coming back to time after time.
Standard Game
———————
Select pairs of matching cubes until there are none left. Earn extra points by matching multiple pairs in quick succession. No time limit.
Timed Game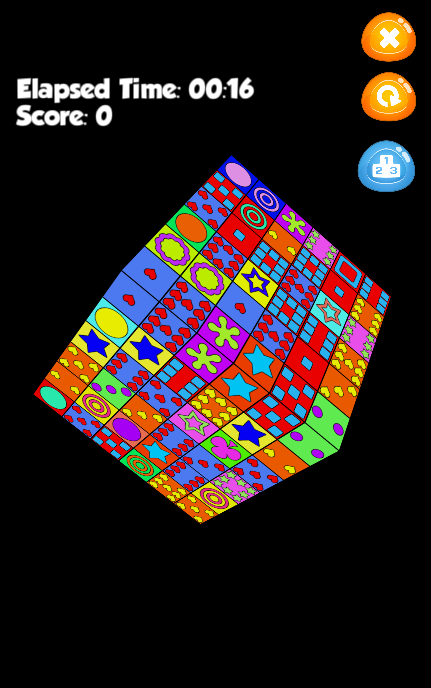 ——————
Select pairs of matching cubes until there are none left. Initially there is a 15 minute time limit in which to finish the cube. The time limit decreases by 30 seconds every time you successfully complete a game, or it increases by 30 seconds if you fail to complete the game in time.
Speed Cube
—————–
A fast paced game with a smaller 3×3 cube block and a 30 second time limit. How quickly can you clear the cubes, quick thinking and fast reactions will be required to top the leaderboard.
Cube Builder
——————
The idea of this game is different in that you start off with just a few cubes and more are added as time goes by. The rate that cubes are added increases as time passes and the game is over when the block is fully rebuilt. Your goal in this game is to keep the block from being completed as long as possible and in doing so earn as many points as you can. As in the standard game extra points are awarded for matching pairs in quick succession.
Picture Search
——————–
This is a memory version of the standard game, in which all the designs are hidden and are only revealed when you click on the cubes. If you select two cubes that match they are removed as usual, otherwise the pictures are hidden again.
In all versions of the game that award points, making incorrect matches will deduct some points.